INFECTIONS OF EYE CHALAZION
WHAT IS A CHALAZION ?
A chalazion is a small cyst (semi-fluid filled swelling) in the eyelid. It is common and sometimes called a meibomian cyst or tarsal cyst.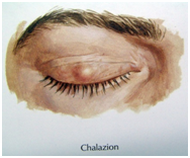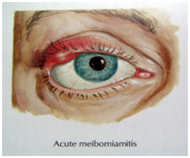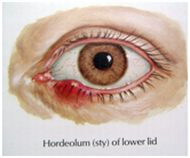 WHAT CAUSES A CHALAZION ?
There are tiny glands just under the surface of the inner eyelid. These make an oily fluid to help lubricate the eye. If the gland gets blocked, secondary infection may occur, then the fluid cannot escape and it may swell into a cyst.
WHAT ARE THE SYMPTOMS OF A CHALAZION ?
Cosmetically disturbing.
Mild pain or irritation.
Swelling
Sight is usually not affected.
WHAT IS THE TREATMENT FOR A CHALAZION ?
Hot compresses help to ease irritation. Sometimes this warmth and slight pressure is enough to release the contents of the cyst, and it is cured. (The water should be hot, but comfortable and not scalding.)
A small operation is an option if it does not go, or if it
causes troublesome symptoms. The operation is done
under local anesthetic. The eyelid is numbed. A small
cut is then made on the inside of the eyelid to
release the contents of the cyst.
WILL IT HAPPEN AGAIN ?
For most people a chalazion occurs just once. However, some people are prone to develop them and it may recur. If it recurs, get diabetes checked, dandruff removed and also check the refractive error. Again safety glasses to avoid pollution should be worn.
OTHER EYE INFECTIONS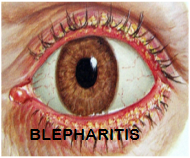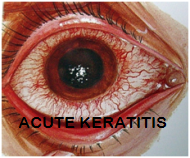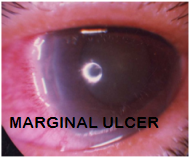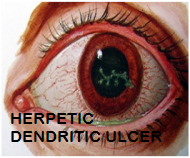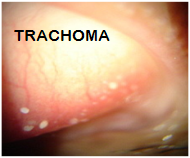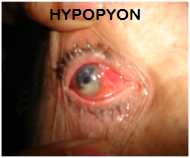 CONGENITAL DACRYOCYSTITIS
Infection of the lacrimal sac is commonly
known as dacryocystitis. Usually it
occurs after 40 years more commonly in
after 40 years esp. in females.
In some new-born babies one or both
eyes become watery and sticky which
is quite common due to delay in opening
of the tear duct. This duct is the tiny
tube that leads from the inner corner
of the eye to inside the nose. Normal eyes constantly make tears to keep the eye moist. Tears normally drain down the tear duct into the nose. Massaging in form of gentle pressure on the outside of the nose along with antibiotic drops to combat secondary infection is required. This may help to clear pooled tears and the tear duct to develop. Usually, within a few weeks after birth the tear duct finishes developing and the problem goes whereas in some babies it can take several months. If it is still blocked by 12 months of age, baby should be referred to an eye specialist to 'probe' the tear duct.